Press Release posted 9/10/13 – Witches and goblins and ghosts, oh my!  Children and adult books with a Halloween theme will be featured at the Friends of the Sierra Madre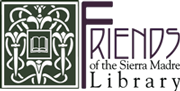 Library's Best Used Book Sale on Friday, October 4, 2013 from 3:00-7:00PM and Saturday, October 5, 2013 from 10:00AM-2:00PM in the basement and back parking lot of the library. The library is located at 440 W. Sierra Madre Blvd. in the city of Sierra Madre.
Best Used Book Sales co-chairs, Martha Troedson and Alan Leahy, say that they also are offering a collection of southern California trail books and nature trail guides for those planning local hikes this fall.  And if you're already starting to plan for the fall and winter holidays, we have featured shelves of some of our craft books and cookbooks on sale for half price.  The tables in the basement will be displaying newer fiction, including some 2013 titles, and coffee table books on a wide variety of subjects.
The bargain tables in our parking lot will offer paperbacks for twenty-five cents each (or five for $1.00).  This month's bargain tables feature a large collection of teacher materials and units ready to use in the classroom all on sale for $1.00 each.  All children's bargain books are five for a dollar.
Proceeds from the Best Used Book Sales are donated to the Sierra Made Public Library to support program and equipment needs.  So bring your shopping bags and come visit us at the Sierra Madre Library on Friday, October 4, and Saturday, October 5, for an opportunity to purchase some of the best used books around at the Friends of the Sierra Madre Library's Best Used Book Sale.   For more information, visit our website at sierramadrelibraryfriends.org or call the library at 626 355-7186.