Rachelle Arizmendi
Lived in Sierra Madre: Seven Years
Occupation: Education Project Director for a large non-profit organization
Sierra Madre Participation: Member of Community Services Commission since 2009
Website: http://www.arizmendiforcitycouncil.com
---
Response to SierraMadreNews.Net Q and A
Q. What's your favorite type of music?
A. No favorite. My ITunes include everything from Pop, Rock, Country, R&B, Rap, Reggae, Jazz, Classical, World Music, and even Showtunes
Q. In or out of that genre, what's your favorite album/CD?
A. License to Ill (sic)
Q. What's your favorite movie?
A. All of the Bourne Identity Series
Q. Who's your favorite actor?
A. Edward Norton
Q. Who's your favorite actress?
A. Meryl Streep
Q. Netflix or Redbox?
A. Netflix
Q. What's your favorite book?
A. Les Miserable and Gone with the Wind
Q. Who's your favorite author?
A. Robert Ludlum
Q. Printed book or e-book?
A. Print- but own an e-book
Q. What's your favorite TV show?
A. White Collar
Q. Jimmy Kimmel, Jimmy Fallon or David Letterman?
A. Fallon
Q. Real time, DVR, or On Demand?
A. No Cable
Q. What's your favorite meal?
A. Almost any of mom's home-cooked meals
Q. Favorite non-Sierra Madre San Gabriel Valley restaurant (please do not include Sierra Madre – I don't want to risk alienating voters over something like that)
A. Nikki Cs
Q. Who's your favorite comic?
A. Anjelah Johnson
Q. Your favorite sports team?
A. San Francisco 49ers
Q. iPhone or Android?
A. iPhone
Q. Tower, laptop or tablet
A. Laptop
Q. Beatles or Rolling Stones?
A. Stones
Q. Beach Boys or Jan and Dean?
A. Beach Boys
Q. Lady Gaga or Beyonce?
A. Beyonce
Q. Paris, London, or Rome?
A. Paris
Q. Have you visited any of the above?
A. All of the above
Q. Paper or plastic?
A. Paper
Q. Charcoal or propane?
A. Charcoal- hands down!
Q. What are your hobbies?
A. traveling, hiking, reading, tennis, and country dancing
Q. What's your favorite sport to watch?
A. Football on TV- Hockey Live
Q. What's your favorite sport to participate in?
A. Tennis
Q. Who is/was your favorite president (living or dead)?
A. Theodore Roosevelt for saying "The only man who makes no mistake is the man who does nothing."
Q. If you could meet a famous figure from the past, who would you choose and why?
A. John Steinbeck- My hometown of Salinas, CA was the setting of most of his books and his writings were a significant part of our education.
Q. If you could meet a famous figure from today, who would it be and why?
A. Condoleezza Rice- Her influence in the academic, political, and artistic worlds are undeniable (and she's a fellow sorority sister!). Would love to gain any insight and advice from her experiences.
---
I am running for City Council to help maintain and enhance the quality of life in our neighborhoods.
For the past 14 years, I have been the Education Project Director for a large non-profit organization, managing an annual budget of over $20 million and 300 employees serving thousands of children and their families at 27 schools.  I have the knowledge and experience to establish and enforce fiscal discipline.
As a long-time Sierra Madre homeowner, I am dedicated to maintaining home values. That means, I will work towards limiting and controlling development to preserve the unique charm of Sierra Madre.
As a part-time PCC faculty member, I know the importance of strong neighborhood schools.  I will work with the PUSD to make sure our neighborhood schools receive our fair share of resources. I am endorsed by the organization representing PUSD teachers.
My civic engagement activities include serving on the City of Sierra Madre's Community Services Commission, serving as a member on the LA Child Care Planning Committee, the PBS SoCal Advisory Committee, and other non-profit boards.
With your support, I will make certain that Sierra Madre is on the right track by working to:
Establish and enforce fiscal discipline
Limit and control development
Keep downtown an appealing and neighborhood friendly area
Work with the PUSD to improve our neighborhood schools
In addition, I will prioritize Public Safety, Neighborhood Protection, and Water issues. This includes working proactively with our police department, city employees, community members, and exploring other possible sources of funding.
I'll work to keep Sierra Madre a beautiful, safe place where individuals, seniors and families can flourish.  I will always give priority to the quality of life in our neighborhoods.
Please call me at 626-660-6294 or visit www.arizmendiforcitycouncil.com
I respectfully ask for your vote.
---
Arizmendi Leadership Mailer, Page 1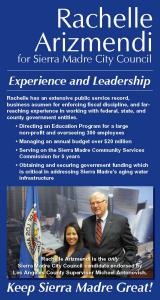 A
A
A
A
A
A
A
A
A
A
A
Arizmendi Leadership Mailer, Page 2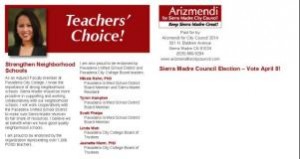 A
A
A
A
A
Arizmendi Leadership Mailer, complete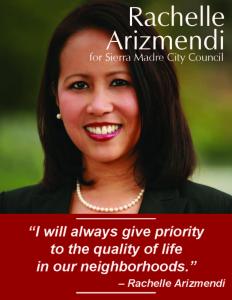 A
A
A
A
A
A
A
A
A
A
Arizmendi 4-page mailer, inside page 1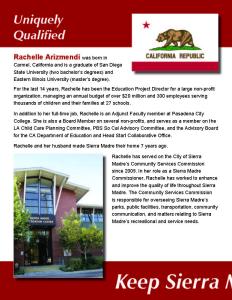 A
A
A
 A
A
A
A
A
A
A
Arizmendi 4-page mailer, inside page 2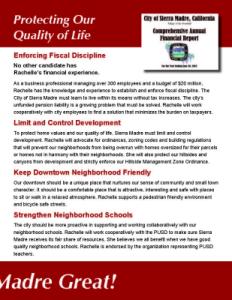 S
S
S
S
S
S
S
S
S
S
Arizmendi 4-page mailer, back cover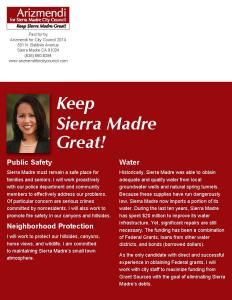 A
A
A
A
A
A
A
A
A
A