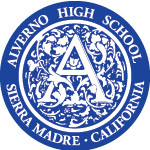 Press Release posted 5/12/15 – On Friday, May 1 members of Alverno High School's Class of 2015 joined in the celebrations for National College Decision Day by sporting their college sweatshirts. As in years past, Alverno High School is excited and proud that 100 percent of its graduates will be going onto college next year.
Alverno graduates will be attending the University of California campuses at Irvine, Los Angeles, Santa Cruz, and San Diego. Private universities being attended by members of the Class of 2015 include DePaul University, Dominican University, Georgetown University, Loyola Marymount University, Marymount California University, Mount Saint Mary's University, Scripps College, University of Jamestown, University of La Verne, University of Puget Sound, and University of San Francisco. Additionally, members of the class of 2015 have chosen the California State Universities at Chico, Northridge, Los Angeles, Pomona, and San Francisco as their home for the next four years. Finally, Alverno will have graduates at Citrus College, Guilford Technical Community College, and Pasadena City College.
Alverno High School's Commencement will be held on Friday, June 5 at 6:30 p.m.
"Over the course of four years, these young women have worked incredibly hard to get to this exciting moment," said Julia V. Fanara, Head of School. "We are extremely proud of their accomplishments and although they will be missed, we wish them well on this next big adventure in their lives. They are joining more than 4,200 Alverno alumnae who have all gone on and made a lasting impact in this world and we cannot wait to see what contributions these graduates make. 
About Alverno High School
Alverno High School is a Catholic, private, college preparatory school for young women dedicated to preparing them to function in a society as informed, knowledgeable persons, who have the requisite skills to make and implement mature decisions about complex problems. Enlivened by the spirit of its Immaculate Heart Community sponsors, and mindful of the Franciscan roots of its founders, Alverno's program—academic, spiritual, aesthetic, social, and physical—is shaped by the staff, trustees, and students in light of the world for which the students are being educated. Alverno's mission is to empower each young woman to be exactly the person she wants to be and since 1960, Alverno has empowered more than 4,200 women to meet that goal. For more information about Alverno High School, please call 626-355-3463 or visit www.alverno-hs.org.