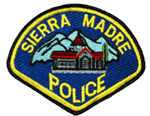 – At the Tuesday, February 23, 2016, City Council meeting, the City Council will consider an agreement with the Los Angeles County Sherriff's Department to temporarily provide supplemental police patrol services, seven days a week between the hours of 6:00 pm and 6:00 am beginning Sunday, February 28, 2016.  The Sierra Madre Police Department has been providing patrol services, but due to numerous staff vacancies, the officers are working at an overtime pace that cannot be maintained and it is necessary to secure supplemental services.  A law enforcement update was provided to the City Council at their February 9, 2016 meeting and will be presented to the Public Safety Committee on Thursday, February 18, 2016. The staff report can be found online at http://cityofsierramadre.hosted.civiclive.com/common/pages/DisplayFile.aspx?itemId=2547870.
The City of Sierra Madre emphasizes that the Police Department is currently policing the city 24 hours a day, seven days a week with its current staff.  In order to do this, investigative and management staff are supplementing patrol operations with assistance from part-time Officers.  Full-time staff are cancelling days off and scheduled vacations, in addition to picking up overtime shifts to ensure the community's safety. Although the current staff is working to keep the community safe, this staffing model in not sustainable.  In order to continue providing patrol coverage 24/7, as well ensuring proper rest for the existing officers, staff will be recommending the City contract with LASD for temporary assistance while the City recruits to fill the Police Department vacancies.
The City is actively recruiting for a variety of positons in the Police Department, interested persons can apply at www.cityofsierramadre.com/cityhall/job_openings.