Rose Float Decorating, 12/29/11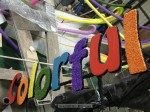 Stopped by the Rose Float Barn last night and took some pics of the status as of that time, which was about 5:30pm.  You'll find the gallery below the schedule…  I understand that flower placement begins tonight and will continue over the next couple days.  If you'd like to volunteer, click to view the Volunteer Guidelines.  There's a link to the release form you'll need to fill out if you want to volunteer.  The barn hours are: through December 31st :  8:30A.M. to 10:30 P.M., and January 1st : 8:30A.M. to 11A.M.
Here's a schedule of events for the SMRFA:
"Colorful Imagination": Parade Entry #78
Judging:
Saturday, December 31st 11:47 AM Inside the Float Barn
Sunday, January 1st 11:47 AM at the Volleyball Court
Float Dedication/Display:
Dedication: Sunday, January 1st @ 5:00PM, Float Barn, Sierra Madre
Display: Sunday, January 1st @ 5:30PM, Kersting Court Bus Stop, Sierra Madre
Tournament of Roses Parade:
Monday, January 2nd @ 8AM, Orange Grove Blvd., Pasadena.
Tournament of Roses Post-Parade:
Monday, January 2nd @ 1PM-5PM & Tuesday, January 3rd @ 9AM-5 PM,  Sierra Madre Blvd, Pasadena.
Downtown Sierra Madre Float Display:
Tuesday, January 3rd @ 7:30-10PM, Wednesday, January 4th @ 8AM-5PM  – Kersting Court, Sierra Madre.
Float Barn Location:
587 E. Sierra Madre Blvd., Sierra Madre, CA. 91024