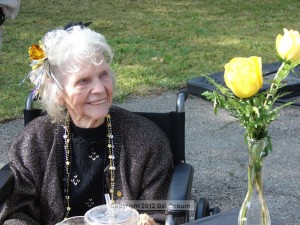 Posted 2/25/2012 – Friends and family gathered at the Grand View Avenue Hoegee family home where Lucille Hoegee has lived since it was built in 1949 to celebrate Lucille's 100th birthday, though the actual birthday isn't until Wednesday, February 29th, making  Lucille a leap year baby.  Is she really just 25?
The Hoegee family has a long and storied history in Sierra Madre, with Lucille's husband's Vinton a member of the Hoegee family that established the Hoegee Camp during Sierra Madre's resort camp and hiking trail heyday, back in 1907.  By the time Lucille married Vint in 1932 (Valentine's Day would have been their 80th wedding anniversary), the resort camps were starting to fade away.  But she and Vint stayed here in Sierra Madre and raised their son, with Vint eventually becoming a City councilman in the 1940s.  Read more of Lucille's bio.
Lucille's grandchildren, Dave and Karen, live with their spouses (Heather and Bob) in Oregon, and now that Lucille has celebrated this milestone with family and friends, she will be moving to Oregon with Karen and Bob, where Heather and David will be able to assist with her care.  Below the video is a photo gallery from today's festivities.  Happy birthday, Lucille!