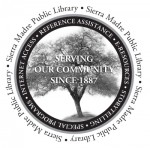 Press Release posted 4/12/12 – The California Preservation Program recently announced that the Sierra Madre Public Library has been awarded a $4,000 Collection Assessment Preservation Grant for its Local History collection.  The California Preservation Assessment Project (CPAP) is designed to help small and mid-sized libraries and archives plan improvements for the care of their historical collections.
A preservation consultant will visit the Library to help implement the assessment.   A survey of the collection, including scope and scale of preservation needs, is an essential first step in creating a plan for enhanced collection care.  Institutions that have completed collection assessments are more likely to receive additional funding for preservation work.
When asked what impact she anticipates the award will have on the Library's Archives, Debbie Henderson, Associate Librarian for the Archival Collection, said, "Our Local History collection has worked hard for us over the last ten years with the Centennial Celebration and the publication of Southern California Story:  Seeking the Better Life in Sierra Madre.   It is imperative that we review the collection as a whole and address its preservation and conservation needs."
The Sierra Madre Public Library is one of ten California repositories that received the award.