Inside the News Net
Sierra Madre Business Web Pages ($125/year, with dedicated domain name, add $50 - Sierra Madre businesses only)
---
Premium Advertiser Web Pages ($250/year, with dedicated domain name, add $50 - non-Sierra Madre businesses allowed, includes premium link placement and logo)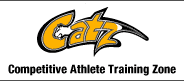 **************
*************
---
Arnold's Frontier Hardware & Gifts
Rambo, Century 21 Village Realty
Gem Plumbing, Heating and Air Conditioning
Gwen Gordon, Fine Art/Graphic Design Solutions
Hands 2 Health Wellness Center, Dr. Teresa Smith, Chiropractor
Harlequin Art Gallery and Restoration
Moe's Automotive Service Center
Redstone Commercial Real Estate
Reni Rose, Prudential CA Realty
Ruth Richardson, Fine/Portrait Artist

Bear Sighted Several Times in Sierra Madre
By Bill Coburn
Following recent bear sightings that have landed Sierra Madre on the television news, a bear was spotted Tuesday on the property of E. Waldo Ward and Son, Sierra Madre's oldest existing business. Waldo Ward's is located on Highland Avenue, between Mountain Trail and Canon. According to Richard Ward, the bear was first spotted around 10:00am. She was about fifty feet up or so in a pine tree, where she stayed for several hours. There was some speculation among the crowd that gathered that perhaps the increased incidents of bear sightings are due to the construction at the top of Baldwin, that the bear has been displaced from its home by the development of the former Carter estate.
According to Capt. Larry Giannone of SMPD, this was the third or fourth encounter with this same bear, including the one the night before that had been reported on TV. "She's got a nice white diamond on her chest, so we're pretty sure we're dealing with the same bear." According to Giannone, it was estimated the bear was in the three to four hundred pound range, and probably two to three years old.
At one point, a bean bag was shot into the tree, which had the effect that Fish and Game thought it would have, as the bear scooted further up the tree. This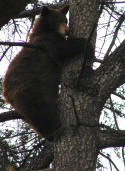 was, of course, not what they wanted.
About 4pm, the bear climbed down, and headed north and moved over a couple properties, where it "treed" itself again. "This tree is a little more out of the way, we don't think we'll have to worry as much with her up there," said Giannone. One of the problems with the bear being on the Ward property is its close proximity to the Sierra Madre School upper campus. At one point during the day, as frequently occurs, children walked from the upper campus to the lower campus, returning a short time later. Children were very excited about seeing the bear, but police and fish and game officers had to keep in mind that this bear could come down at any time, with all the children nearby. Fortunately, that didn't happen. The children were never in danger, and while the potential did exist, had the bear come down while the kids were there, there were half a dozen police officers and an equivalent number of fish and game officers nearby, many armed with rifles and/or tranquilizer guns. Police did close down Montecito to traffic for a time. When we spoke with Giannone about 4:30pm Tuesday, he said that Fish and Game was going to bring a trap up and try to catch the bear next time she came down. If they are able to trap her, she will be moved about 25 miles or so and released.
I'll add more photos of the bear as time allows, and some video, too.