Inside the News Net
Sierra Madre Business Web Pages ($125/year, with dedicated domain name, add $50 - Sierra Madre businesses only)
---
Premium Advertiser Web Pages ($250/year, with dedicated domain name, add $50 - non-Sierra Madre businesses allowed, includes premium link placement and logo)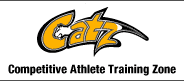 **************
*************
---
Arnold's Frontier Hardware & Gifts
Rambo, Century 21 Village Realty
Gem Plumbing, Heating and Air Conditioning
Gwen Gordon, Fine Art/Graphic Design Solutions
Hands 2 Health Wellness Center, Dr. Teresa Smith, Chiropractor
Harlequin Art Gallery and Restoration
Moe's Automotive Service Center
Redstone Commercial Real Estate
Reni Rose, Prudential CA Realty
Ruth Richardson, Fine/Portrait Artist

Sierra Madre City College
Sierra Madre City College is not affiliated in any way with SierraMadreNews.Net and is not responsible for any coverage that we post. Any SMCC information provided herein is shown here as a public service of SierraMadreNews.Net without explicit permission of Sierra Madre City College.
Click logo to enlarge
Sierra Madre City College is located about a half a block up, on the second floor at that vacant lot. They can be reached by phone at 867-5309, ask for Jenny.
Sierra Madre City College was founded by 10 zany madcaps from Sierra Madre. The late Hugh Warden, a local businessman and sometime character actor, was president for several years, but these days leadership is as enigmatic as the college itself. According to one spokesperson "Nobody knows who's running the joint." But the joint is most definitely being run. While the college has no students, it still hands out degrees. Though the handsome, official looking degrees themselves cost nothing (SMCC is tuition-free), the frame is $20, and you can't get the one without the other. The familiar (to parade goers) bright yellow Sierra Madre City College t-shirts are on sale at the Bottle Shop ($10.99), where you can also pick up SMCC license plate frames, $5.99 for one, or $9.99 per pair (prices quoted here are subject to change without notice). There's also a golf tournament to raise funds annually. Does all the money raised help pay the teacher's salaries? Not one penny. It's all donated back to the community. Over the years, the City College has donated to the City's ambulance fund, and to Sierra Madre Search and Rescue. They donated a flagpole to St. Rita's School, and installed a concrete art patio for the Kindergarten students at Sierra Madre School. They've installed lighting at Sierra Vista and Mountain Trail parks, funded a patio on the east side of City Hall and the south side of the Senior Center. With Kiwanis, they helped fund the pergola area in Memorial Park, and they are also responsible for the covered barbecue area in Sierra Vista Park (a revenue generator for the City). They've also installed barbecue sets in Memorial and Sierra Vista Parks.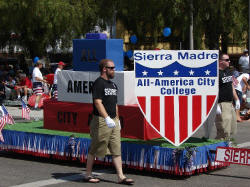 2007 Float, click to enlarge - note the trophy at the top of the float
Here's a pictorial retrospective of the floats that have been put in the 4th of July Parade by Sierra Madre City College, going back to 1973 (actually, that's a couple years before the City College was around, the first couple entries were from The Bottle Shop).
Sierra Madre City College Floats Retrospective Page 1
Sierra Madre City College 4th of July Floats Retrospective Page 2
Sierra Madre City College 4th of July Floats Retrospective Page 3
Sierra Madre City College Marching Band Video, Yankee Doodle Dandy, from the 2007 parade
Sierra Madre City College Marching Band Video, playing the Mickey Mouse song, from the year 2000 parade