Inside the News Net
Sierra Madre Business Web Pages ($125/year, with dedicated domain name, add $50 - Sierra Madre businesses only)
---
Premium Advertiser Web Pages ($250/year, with dedicated domain name, add $50 - non-Sierra Madre businesses allowed, includes premium link placement and logo)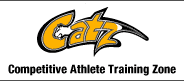 **************
*************
---
Arnold's Frontier Hardware & Gifts
Rambo, Century 21 Village Realty
Gem Plumbing, Heating and Air Conditioning
Gwen Gordon, Fine Art/Graphic Design Solutions
Hands 2 Health Wellness Center, Dr. Teresa Smith, Chiropractor
Harlequin Art Gallery and Restoration
Moe's Automotive Service Center
Redstone Commercial Real Estate
Reni Rose, Prudential CA Realty
Ruth Richardson, Fine/Portrait Artist
Fifteen Alverno Students Named AP Scholars; Three Earn National Merit Recognition
December 15, 2009
Fifteen students from Alverno High School in Sierra Madre have been named AP Scholars by the College Board in recognition of their exceptional achievement on the college-level Advanced Placement Examinations. Only about 18 percent of the more than 1.6 million students worldwide performed at a sufficiently high level to merit such recognition. AP Exams, which students take in May after completing challenging college-level courses at their high school, are graded on a 5-point scale, with 5 being the highest score. Most U.S. colleges and universities award credit, advanced placement, or both for grades of 3 or higher. More than 1,400 institutions award a year of credit (sophomore standing) to students presenting a sufficient number of qualifying grades.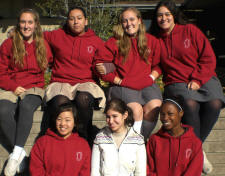 Alverno seniors who are AP Scholars: Jordan Turner, Lilya Roldan, Morgan Turner, Angelina Pellegrino, Front row: Cheryl Iwamoto, Melody Bueno, and Karen Opara
"This is great news," says Alverno Head of School Ann Gillick. "It means that nearly 20% of the Alverno students who took AP exams last May earned this honor. And we require all students, not just the strongest in the class, to take the exam."
Nine of the 71 graduates of Alverno's Class of 2009 were recognized by the College Board for their outstanding scores on these rigorous exams. Seven current seniors also earned the impressive scores noted by the Board.
Alexandra Peters has been named a Scholar with Distinction. Alex earned an average grade of 4.3 on all the AP exams she took, including the top score of 5 in AP Biology. She attended Our Lady of Lourdes Catholic School in Tujunga before coming to Alverno, and is a current freshman at Loyola Marymount University. She was the Salutatorian for the class of 2008.
Current Alverno seniors Jordan and Morgan Turner earned AP Scholar with Honor awards, scoring a grade of 3 or higher on four or more of these exams. Morgan is also a National Merit Commended Scholar. Sara Pfeiffer is also a National Merit Commended Scholar.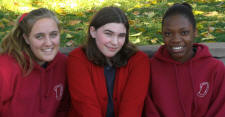 Morgan Turner and Sara Pfeiffer are National Merit Commended Scholars. Karen Opara is an Outstanding Participant in the National Achievement Program, an honor given to the top 3% of African American students who take the PSAT /NMSQT in their junior year.
The other 12 students are AP Scholars; young women who took three or more AP exams and earned scores of 3 or higher. The following AP Scholars are current seniors at Alverno: Melody Bueno, Cheryl Iwamoto, Karen Opara, Angelina Pellegrino, and Lillya Roldan. Karen Opara is also an Outstanding Participant in the National Achievement Program.
The seven members of the Class of 2009 who have been recognized as AP Scholars matriculated at such institutions as UC Berkeley, UCLA, UC Irvine, Cal Poly Pomona, Fordham, and Mills College.