PUSD Board Member Ed Honowitz Addresses Kiwanis re: State of Schools
Tuesday, Feb. 10th, 2009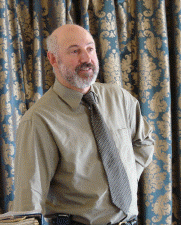 PUSD Board Member Ed Honowitz, in his eighth year on the Board, was the featured speaker at Tuesday's Kiwanis meeting, and while there were one or two bright spots to discuss, most of the talk revolved around the financial struggles surrounding not only PUSD, but the entire state's public education system, the state of which he described as "frankly, fairly dire."
Mr. Honowitz, a commercial photographer who grew up in Pasadena, attended Pasadena public schools and PCC, began with some statistics that might seem surprising. For instance, while many people might think that the high percentage of the state's budget that is encompassed by education would mean that we are spending more on education than we did in the past (and in actual dollar figures, they'd be right), the percentage of personal income spent on education has actually gone down, from 5.6% in 1972 when Ronald Reagan was governor to the current 4.4% of personal income spent. That 1.2% of personal income is the equivalent of $22 billion.
"What that means," said Honowitz, "is that, basically since the 1970s, we spent significantly less toward funding public education than we did previously as a percentage of the total taxes out there, and to give you an idea how California stacks up against states across the country, we are 47th out of fifty states in per pupil funding. We are at the very bottom. New York spends 72% more per student than California, and California spends 32% less per student than the national average, meanwhile what used to be sort of the top has…slipped year after year to the bottom of all states."
He attributed that to a variety of things, noting in particular the 1971 Serrano v. Priest CA Supreme Court decision that said that "it's not fair to have schools based solely on property taxes, because some communities have tremendous property tax wealth and revenue generated from that, and some communities have much, much less, and so the state needs to have some kind of mechanism to try to equalize that to a certain extent...the other change in funding was Prop. 13, which did two things, it put a cap on property taxes and decreased property taxes, and the biggest hit, at that time was public education."
He also cited Prop 98, which attempted to put a floor on funding for education in the state, but which he said has been under funded by $13 billion since 2002. According to Honowitz, State general revenue from 1998 to 2008 went from $57 billion to $97 billion, a 71 % increase. Prop 98 expenditures went up only 59% in the same period. He added that all other aspects of the budget, prisons, health care expenditures, loans, etc. have grown by 92%. "All of that has left California in what is really an unfortunate state in terms of our public education." He added that had California, where one in eight public school students nationally attend school, funded public education at the national average, it would mean an addition $15 billion dollars. He noted that California has the fewest librarians, nurses, and counselors of every state in the nation. He also pointed out that for every billion dollars in lost funding on the statewide level, PUSD loses $3 million. "At some point, you have to adequately fund public education in the state or it becomes detrimental to our ability to compete as a state and as a nation.
He discussed the current budget impasse, and the effect that mid-year cuts will have on the district, including the need to eliminate programs and staff.
"In spite of all of the deficit," said Honowitz, "when I came on the Board in 2001, we had three schools that were scoring over seven hundred on the state API (Academic Performance Index), eight hundred is kind of like the benchmark you want to achieve, this is a scale from 200 to 1,000, we only had three schools scoring over 700, now we have twenty-one schools over that mark, so we've seen some real academic growth in the district. The district still has plenty of kids that are underperforming, we have dropout issues, we've got all kinds of other problems that we're trying to reform and solve, but we've seen a real steady progress in terms of the growth in test scores, and I think the challenge is that that continued growth level is going to potentially be undermined by the number of cuts we're going to be seeing based on the state budget.
"What do we do about that?" asked Honowitz. "…At some point you have to look at, if, in 1972, we put 5.6% of personal income into public education, and now we're at a level that is $22 billion less than that, maybe we need to address the fact that we can't get to where we want to go in California or in the country and have public schools that are 47th out of 50 states."
In a brief question and answer period following his talk, Honowitz called the lottery "one of the greatest sales ever perpetrated in California, because most everybody is sure that schools are hugely funded by the Lotto, because that's basically what was part of that electoral process where that was an initiative…We get about 2% of our funding from the lottery."
Honowitz has two children in high school and one in sixth grade, all in PUSD schools.