Inside the News Net
Sierra Madre Business Web Pages ($125/year, with dedicated domain name, add $50 - Sierra Madre businesses only)
---
Premium Advertiser Web Pages ($250/year, with dedicated domain name, add $50 - non-Sierra Madre businesses allowed, includes premium link placement and logo)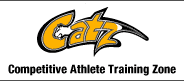 **************
*************
---
Arnold's Frontier Hardware & Gifts
Rambo, Century 21 Village Realty
Gem Plumbing, Heating and Air Conditioning
Gwen Gordon, Fine Art/Graphic Design Solutions
Hands 2 Health Wellness Center, Dr. Teresa Smith, Chiropractor
Harlequin Art Gallery and Restoration
Moe's Automotive Service Center
Redstone Commercial Real Estate
Reni Rose, Prudential CA Realty
Ruth Richardson, Fine/Portrait Artist
St. Rita's Welcomes Youth Minister John A. Perez
March 26, 2009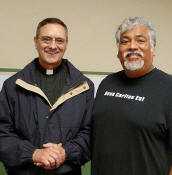 Click photo to enlarge
St. Rita's Catholic Parish in Sierra Madre is delighted to announce a commitment to expand high school youth ministry in the parish with the hiring of John A Perez. "After a long a careful search," says Pastor Richard Krekelberg, "John Perez will take on the building a youth program here at St. Rita's. We've long neglected attention on building a great faith and community foundation for our teenagers. The time is now, and we ask for your support and your prayers in what will be a multi-year building process for us."
An Alhambra native, Perez grew up just down the road in the All Souls Catholic Parish in that community just a few miles away. As a high schooler himself at Don Bosco Tech in Rosemead, a close friend lived here in Sierra Madre, so he feels a lifelong connection has been rekindled here.
"I'm firmly planted here in the San Gabriel Valley," Perez laughs. "My wife and I bought the Alhambra home I grew up in from my mother, and now a second generation of Perezes are growing up there."
"When I graduated in 1992 from Don Bosco, they offered a five year technical program combining high school, technology and an associate degree in science. It opened up new avenues for me, and with that training, I worked for some time in the aerospace industry at Northrup in Sacramento.
Later, after moving back here to Los Angeles, a 1998 Christmastime visit to the ER changed his life. Laying on a gurney, he reflected on the path of his life. He worried that his son, nine at the time, might grow up without a dad, as Perez's own father had passed away when he was young.
I started the desperate praying, searching back in his memory to pray the rosary. "Instead it got all mixed up with the stations of the Cross and who knows what else." There was a bit of dark humor during that ER visit, as well. Perez smiled wryly as he recounted, "Weird things run through your mind at a time like that. I was with FedEx at the time, and couldn't help but think, "Geez, I never got to Hawaii!" referring to FedEx's employee benefit of free air flights for its staff.
When he recovered, Perez decided to refocus his life, returning to his faith and committed to in-depth study. At one point, he encountered some Jehovah's Witnesses who fired off Biblical questions he couldn't quickly answer. "After 13 years of Catholic education, I thought I knew what I was talking about, but they had me stumped." During the long distance FedEx hauls, he first tuned into Catholic radio to keep him company in the big rigs.
Eventually Perez graduated to taped religious and Bible study on the long hauls. Then came a variety of certifications for ministry. Initially, Perez worked with the elderly, but found that the youth population was where he was most comfortable.
"I became youth minister for All Souls, my home parish." St. Rita's will now share Perez with that parish. Perez has slowly grown that community's high school program. "I've been through this ramp up with All Souls. The kids have to know you are here every week, and that you are going to stay."
Every year for the past five years, the program has gotten stronger. The highlight is the summer Catholic Youth Conference held at San Diego State each year, sponsored by the University of Steubenville, where last year he and others chaperoned 45 youth. This year we'll bring about 50 from Alhambra, and we hope that some of the St. Rita's youth will join us on this incredible journey." Sponsored by Franciscan University of Steubenville, Ohio, this year's conference will be July 24-26. More information can be obtained at www.FranciscanYouth.com
Perez concludes, "To be upfront, I'll need four things from St. Rita's. The first, of course, is your prayers. Next, I'll need your help. For every ten youth in attendance at any event, the diocese requires an additional adult present. Third, I'll need your long term support. It will take a while to build a youth program, several years, actually.
Finally and honestly, I'll need your fundraising help. Going to events like the youth conference costs money. In these tough economic times, that's even more difficult for some families.
"Please encourage your kids to join us on Wednesday evenings from 5-7 p.m. in the Youth room in Garra Hall. Come on in and meet me, when you drop them off. Call me at 626-355-1852 or 626-497-9711, or email me at JohnPerez626@sbcglobal.net. And for the kids, my Gamertag is SilverKnight101, if they're playing!"
Photo above courtesy of St. Rita's - St Rita Pastor Richard Krekelberg and new youth minister, John Perez