Inside the News Net
Sierra Madre Business Web Pages ($125/year, with dedicated domain name, add $50 - Sierra Madre businesses only)
---
Premium Advertiser Web Pages ($250/year, with dedicated domain name, add $50 - non-Sierra Madre businesses allowed, includes premium link placement and logo)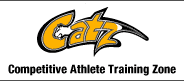 **************
*************
---
Arnold's Frontier Hardware & Gifts
Rambo, Century 21 Village Realty
Gem Plumbing, Heating and Air Conditioning
Gwen Gordon, Fine Art/Graphic Design Solutions
Hands 2 Health Wellness Center, Dr. Teresa Smith, Chiropractor
Harlequin Art Gallery and Restoration
Moe's Automotive Service Center
Redstone Commercial Real Estate
Reni Rose, Prudential CA Realty
Ruth Richardson, Fine/Portrait Artist
Sierra Madre Fire Safe Council Receives Grant
Thursday, June 12th, 2008
Back to Fire Safe Council Main Page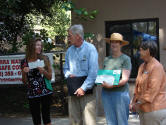 Local Fire Safe Councils Receive Grants from State Council By Bill Coburn After receiving a $150,000 grant from Farmer's Insurance last week, the California Fire Safe Council (CFSC) shared the wealth with two local Fire Safe Councils (FSC), the Sierra Madre Fire Safe Council and the Big Santa Anita Canyon Fire Safe Council, honoring them for their work during the Santa Anita Fire which started April 26th and was declared contained on May 2nd. The fire burned more than 500 acres in the San Gabriel mountains behind Sierra Madre.
Caroline Brown accepted a check in the amount of $1,000 on behalf of the Sierra Madre FSC and Jackie Gibson accepted a similar check on behalf of the Big Santa Anita Canyon FSC. The bulk of the larger donation by Farmer's will be used to fund the development and implementation of a series of workshops titled "Together is Better."
The California Fire Safe Council is California's leading community-based statewide wildfire prevention organization. Its mission is to mobilize Californians to protect their homes, communities and environment from wildfires, through public education programs and by funding community fire safety projects. There are approximately 130 independently operated local Fire Safe Councils in California. More information about the California Fire Safe Council can be found online at www.firesafecouncil.orq.
On hand for the presentation were Bruce Turbeville, chairman, founder and CEO of the CFSC, Brown and Gibson of the local FSCs, Mark Toohey, Senior VP of media relations for Farmer's, Farmer's Director of Media Relations (and CFSC Board Member) Jerry Davies, and more than a dozen local Farmer's agents, as well as Sierra Madre Fire Marshal Rich Snyder.
"It's a sad truth that wildfire season is now year-round," said Turbeville in a prepared statement. "Wildfires take a tremendous toll on people, neighborhoods, and the environment. Yet, effective prevention projects have made a huge impact in eliminating or reducing losses in numerous communities, and we want to find new ways to expand and improve these kinds of community-wide endeavors. For every dime you spend to prevent a fire, you'd spend more than a dollar to fight that fire. It makes good business sense to prevent losses before they happen."
After receiving the check, Brown discussed the origins of the Sierra Madre Fire Safe Council, noting that she had known very little about what they are and what they do when she first heard about them, but adding that she had brought the information about the council to Mike Kinney, chairman of the SM FSC, "…we worked very hard, and it's taken us quite a while, but we've got the City of Sierra Madre behind us, our Fire Marshal works very hard with us and the Red Flag patrol the last year, and it's been a pleasure."
"I just wanted to say thank you," added Gibson. "I'd just like to repeat how important Fire Safe Councils and Partnerships are," said Turbeville. "You just can't beat it when a community takes it upon itself to do something to protect itself. The state Fire Safe Council does whatever it can to get funding and seed money down to the local level, and with the support of the insurance industry and other entities supporting it, we just can't thank them enough."