Honorary Director George L. Throop, Jr. Passes Away
(4/14/10) (Tournament of Roses Press Release, News Net file photo)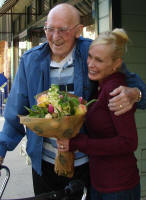 Dedicated member was father of 2011 President, Jeffrey L. Throop
PASADENA, CALIF. (April 13, 2010) – George Lynford Throop, Jr., age 86, died on Sunday, April 11, 2010 from complications of pneumonia. Throop (pictured at left with daughter-in-law Angel Throop after she was named Sierra Madre's Citizen of the Year for 2008) joined the Tournament of Roses Association in 1960 and was named an honorary director in 1988 after 28 years of valuable service. The Tournament of Roses was special not only to Throop but to his entire family; he was the proud father of current Tournament of Roses President, Jeffrey L. Throop. "Dad loved his time with the Tournament. He knew how to get any task done and have fun doing it," said Jeff Throop about his father. "Those who served with Dad all have stories that will be lasting memories."
George Throop, Jr. took over the George L. Throop Building Materials Company and operated the organization for more than 50 years. It began as a feed and fuel company in 1921 delivering coal and building materials with a horse and wagon. Today, the business is one of the oldest companies in Pasadena and is currently operated by George's two sons, George Throop, III and Jeffrey L. Throop.
George Throop, Jr. was a Pasadena native, born in 1923 at the Huntington Hospital. He attended various Pasadena schools and the University of Southern California in Los Angeles. He served three years in the United States Army as a military policeman during World War II before joining his father at the George L. Throop Company in 1947. In 1948, he married his wife, Nancy Hentges.
Survivors include his beloved wife Nancy, three children, George, Jeff, and daughter Ann, three grandchildren, and three great grandchildren.
Services will be private and the family asks that in lieu of flowers donations be made to the City of Hope Cancer Research Center, 1500 E. Duarte Rd., Duarte, CA 91010.