Catching Up With...Sierra Madre Police Chief Marilyn Diaz
By Bill Coburn
Back to Catching Up With...main page
Back to SierraMadreNewsNet blog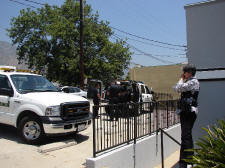 Recently, the Sierra Madre Police Dept. has been the subject of news articles, relating to lawsuits filed against the Chief and the City by the Sierra Madre Police Officers' Association, and a Vote of No Confidence announced by the POA. After I read about the lawsuits being announced in the Sierra Madre Weekly, I contacted SMPD Chief Marilyn Diaz (pictured at left during a standoff with a barricaded suspect in July, 2008), and requested to talk with her about them. The Chief was out of town, but upon her return, she said she'd be willing to discuss them with me. In the interim, the Star News story about the Vote of No Confidence was published. Chief Diaz and I were finally able to connect by phone on Saturday, Nov. 8th, and that conversation is excerpted here as this edition of "Catching Up With…"
SMNN: It has been suggested to me that what we have here is you trying to hold people accountable, and them not liking it.
Chief: I think that…in any organization when you try to bring about changes some people have a harder time adjusting to the changes, and they aren't comfortable with the challenges associated with providing upgraded services to the community.
SMNN: One of the SM POA lawsuits alleges that you had searched lockers and that you had told at least one employee that you had done so, is that something you can comment on?
Chief: That matter is under pending litigation so I'm not at liberty to discuss that.
SMNN: In a hypothetical, what would be something that would cause a chief to search a locker?
Chief: To give you a clear understanding of the facts in this case would require me to give an example similar to the actual facts, and…I'm just not at liberty to go into that.
SMNN: Regarding the vote of no confidence, it says that you were unilaterally making decisions without consulting with the POA, it seems to me like that would be within your purview, I don't understand why you as the boss would have to consult with your employees before you make decisions.
Chief: Well let me explain something, shortly after coming to Sierra Madre, I established some protocol to foster better communication with the POA. I held regular meetings with the POA representatives, the president and the vice-president. I invited the POA president to attend staff meetings, and our staff meetings are with supervisors, the Captain and the Chief, and I've requested input from the rank and file police officers whenever issues affecting their work have come up.
SMNN: Did you ask for medical records for a police dispatcher after surgery?
Chief: I can't comment.
SMNN: So you can't discuss whether or not you required her to be escorted by another officer?
Chief: I'm not at liberty to discuss the facts surrounding that situation.
SMNN: How about the charge that you failed to help two officers struggling with someone resisting arrest?
Chief: The union has not pinpointed a specific incident, so until I know which event they are speaking of I'm really not in a position to respond.
SMNN: Which would kind of almost imply that there are multiple events that they could be speaking about?
Chief: Well, reading the press release, it refers to a single call-out, but it doesn't specify where or when, or who is involved.
SMNN: And you're not aware of an incident that might have fit that description.
Chief: No.
SMNN: Has the City Council been supportive?
Chief: The issues that have been brought before the City Council are two grievances, and both of those grievances the City Council unanimously upheld my actions.
SMNN: In regards to the lawsuit, are you working solely with the city or do you have separate counsel of your own to respond to your aspect of the suits?
Chief: The City is providing legal defenses.
SMNN: Is there anything that you want…to say to the public?
Chief: Yes. I think it's important for the public to know that the SM POA projects concerns that aren't universally supported by all department employees, and a number of employees support the direction I'm taking the department, even though their views have not been publicized by the POA or their law firm, Lackie, Dammeier & McGill. In the last two years, I've implemented team building workshops, held regular meetings with the POA representatives, as I've said earlier, and invited the POA president to attend staff meetings, and solicited input from the rank and file police officers to try and enhance communication and camaraderie within the police department. This week, the entire department attended a team building workshop in which the focus was building a leadership team. The officers identified and set their own goals and tasked this leadership team to hold the officers accountable. I think this was a great step in moving forward to establishing better performance standards, accountability and better service delivery.
SMNN: You've mentioned a couple times that you've invited the POA president to attend staff meetings. Has that happened?
Chief: Yes.
SMNN: Regularly?
Chief: Yes.
Chief: If I may just say something. I think that there are positives that we have to look to and I want to say that I am optimistic about the direction this department is going. Some of the highlights are this recently completed workshop, in which our leadership team was established and committed to filling the officers' priority list, which were scheduling and training needs. Secondly, in January we'll be hiring a new sergeant, from the outside, Pasadena Police Dept., and I think she will bring fresh perspective, with her experience, both as a police officer and as a long-time business owner. And I just want to end by saying that I am honored to serve the Sierra Madre Police Dept. and the community that I cherish, this is a wonderful place to work, and I am committed to bringing a higher level of service delivery to all of our citizenry.
SMNN: This officer that you're bringing in, it sounds like the process to bring her in has already been gone through…
Chief: It's to fill an existing vacancy, however, we're not through the entire process, there's a background investigation and a medical exam that has yet to be completed, presumably if those go well, we'll make a job offer and if all goes well, she would start in January.
SMNN: Do you anticipate the possibly that there might be some people who don't like the fact that outsiders are coming in instead of moving somebody up from within?
Chief: Yes, there's that possibility, but we had held a sergeant's exam, a competitive exam, and this candidate came out number one.
SMNN: I want to give you another opportunity, is there anything I haven't asked that you feel should be asked about?
Chief: There was a reference in the local media release about how many internal affairs investigations have taken place during my two year tenure, and I just want to clarify that state law requires that we investigate citizen complaints, and the majority of those complaints were generated by community members, not by internal supervision….Generally they have to do with code of conduct on the part of the officer, and they range from whether the officer was rude, to whether they improperly searched a vehicle, detained someone too long, damaged property, those kinds of things.
As we ended our conversation, the Chief stated that "I think the friction has arisen because of the resistance to some people moving out of their comfort zones. I really want to leave you with the feeling that I'm very positive about the Department's future, actually in light of our teambuilding workshop this week, bringing a new supervisor on board, with another perspective. In fact, she attended the teambuilding workshop this week, just so she could gain greater insight into organizational culture and the obstacles that we face. But I'm still excited about my job, and I think this is a terrific place to work, a terrific place to serve, a terrific community to serve."