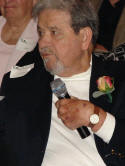 Long-time Sierra Madrean John Grijalva Passes Away
By Bill Coburn
Long-time Sierra Madrean John Grijalva, honored as Citizen of the Year, Older American of the Year, and 4th of July Parade Grand Marshal, but probably best known for his leadership roles with Pioneer Days and the Sierra Madre Veteran's Memorial Wall, passed away on Sunday, Dec. 9th. He was 79 years old.
Born in Los Angeles to John and Kathryn Grijalva in Arizona on December 18, 1928, Grijalva moved to Sierra Madre when he was 7 or 8 according to his wife of fifty-eight years, Mignon. He attended Sierra Madre School. He also attended Woodrow Wilson Jr. High and Pasadena Junior College. In those days, the school system was 8, 2 and 2, with 11th and 12th grades at what was then called Pasadena Junior College, which is no relation to today's Pasadena City College.
He moved around a lot as a teenager, but returned to Sierra Madre, where he settled for the rest of his life. He went to work for Sierra Madre goldsmith Harold Brett, cutting semi-precious gemstones. After Brett graduated to precious stones, which he bought pre-cut, Grijalva looked for other work. He began working in optics when, while looking for work in Pasadena, a prospective employer asked him "Can you read blueprints? You've been cutting stones? You can do this." According to Mignon, this was his calling. "He ended up having his own business."
Grijalva worked in the Precision Optical field for over forty years. He worked with the movie industry on projection lenses, including Panavision, Cinerama, and special-effect lenses for "Friday the 13th" in 3-D. Additional projects include auxiliary lenses for "Star Wars" and Disney's Epcot, printing lenses for Technicolor, and lens systems to speed up the printing process for Pacific Title and Disney.
Grijalva's company, employing approximately seventy people, was used exclusively to manufacture all the Cinerama projection lenses.
Grijalva was well respected in the movie industry, doing all his work by hand. He was approached by Universal Studios to design and manufacture new printing lenses for the re-release of "Spartacus," as it was originally shown in a squeeze format.
His business also dealt with the space program. The spacecrafts had a history of losing nose tiles, and John manufactured a measuring device to space the tiles properly, thereby eliminating the problem. He also manufactured parts for the "Enterprise" and "Columbia" spacecrafts. Other government work included the night vision program, guidance systems, and the environmental industry.
In 1966, John had open heart surgery, and sold his business to Xerox, and after recovery, he started another optics business. "He loved it, it fascinated him, that he could take this hunk of glass and you could do all this with it."
"He adored his family, and he LOVED this town," said Mignon. "He had a good life…WE had a good life…He was very, very unique, not like any man I've ever known, he was very, very different."
He is survived by his two sons, Steve, of Sierra Madre and John, who lives in Hawaii. His brother George recently moved to Oregon, and his other brother, Joe and his sister Armeta (who was married to Bill Adams) pre-deceased him. He is also survived by five grandchildren and 4 great-grandchildren.
Grijalva had been beset with health problems since 1991, and while he had rebounded from the most serious problems, there were still problems and recently some general decline. The health problems caused him to stop working. Eventually, John found other things to do with his time. In the late 1990s, when Pioneer Days was resurrected, John was asked by Judy Webb-Martin to help with notifying former Sierra Madreans and trying to get them to come back to town. John set to work, using postcards and letters, and though Pioneer Days has been on again/off again, Grijalva's gathering of old-timers has become a tradition, with locals and ex-pats gathering together in Memorial Park, bringing and sharing photos and memories each October. He began collecting photos of Sierra Madreans in their service uniforms.
Mignon thinks it was the fact that he missed out on serving during wartime that helped lead him to what eventually became the Veteran's Memorial Wall. "He had such admiration for these men who served, he wanted to be there, but he was too young, and that's why he joined the naval reserve." In his later years, he decided he wanted to do a memorial to these servicemen, and met a young man at Beantown who worked for Disney, who put him in touch with another Disney employee who worked with a process that could transfer the images to steel, and Grijalva knew that he'd found the process for his dream memorial. "And then the next thing was to get a place to put the memorial, and convince the City that it would happen," said Mignon. "And I can understand where they were reluctant…He didn't give in, he was determined. He had a lot of help, a lot of back-up, and a lot of people that wanted it, and so now we have it." The Veteran's Memorial Wall was dedicated on October 11, 2003. Since then, Grijalva and a group of volunteers have continued with maintaining the wall, adding a flagpole, a directory, decorating it with seasonal flowers, etc.
Said Grijalva's long time friend Bud Switzer, "When we die, the only thing that most of us will leave is some bones or some ashes and stuff, but very few of us will leave a permanent monument, but one of the things that Johnny has left will be the Veterans Photo Wall, which is a permanent monument to Johnny, but he has always been very strong about saying that…it's always a team that worked together that put the wall together…he was the visionary, he had the inspiration and he came up with the design of the wall, with his brother George Grijalva. He also came up with the idea of doing a scale model of Sierra Madre in 1944, which is down in City Hall now."
Grijalva was named Grand Marshal of the 4th of July parade in 2003, and Sierra Madre's Older American of the Year in 2004. He was named Citizen of the Year in 2006. "He was a wonderful man, a lot of fun. Fun to travel with, we had a lot of fun trips," said Mignon. "He just liked people, he really, really liked people. He loved to go to Beantown…He never ceased to tell me how much he loved me…He was so, so, so proud of his grandchildren…They're really fabulous, and they loved their grandpa…They know how much he loved them, and he let me know how much he loved me, he was that way….I think that had a lot to do with liking people. A lot of people that he knew, friends, he really loved…He had a great capacity for it, and he let you know."