Inside the News Net
Sierra Madre Business Web Pages ($125/year, with dedicated domain name, add $50 - Sierra Madre businesses only)
---
Premium Advertiser Web Pages ($250/year, with dedicated domain name, add $50 - non-Sierra Madre businesses allowed, includes premium link placement and logo)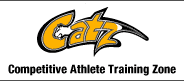 **************
*************
---
Arnold's Frontier Hardware & Gifts
Rambo, Century 21 Village Realty
Gem Plumbing, Heating and Air Conditioning
Gwen Gordon, Fine Art/Graphic Design Solutions
Hands 2 Health Wellness Center, Dr. Teresa Smith, Chiropractor
Harlequin Art Gallery and Restoration
Moe's Automotive Service Center
Redstone Commercial Real Estate
Reni Rose, Prudential CA Realty
Ruth Richardson, Fine/Portrait Artist
Click image to enlarge

The 41st Mt. Wilson Trail Race

Saturday, May 26, 2007
Official Mt. Wilson Trail Race Website
Back to main News Net Trail Race page
Kevin Koeper Wins Third Consecutive Mt. Wilson Trail Race, Fifth Overall
By Bill Coburn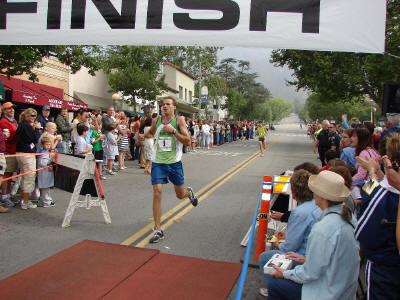 Kevin Koeper (click photo to enlarge) of Arcadia repeated as the overall winner of the Mt. Wilson Trail Race, his third consecutive victory and fifth since the year 2000. His time of 1 hour, 27 seconds was nearly two and a half minutes faster than last year's, largely due to being pushed by J. J. Timphony of Arcadia, who took second place for the second year in a row, following a third place finish in 2005. Timphony got a late start, leaving the starting line approximately twenty seconds after Citizen of the Year and honorary race starter Bud Switzer pulled the trigger to start the race. According to one witness, Timphony had started up the hill on a last wind sprint before the start of the race, and didn't get back in time for the sounding of the gun. Video of the start shows Timphony running against the field of runners, which this year numbered 321, to return to the sensor mat that registers the computer chip on each runner's shoe.
Reports from the hillside from the Sierra Madre Emergency Communications Team as relayed by track announcer Lisa Spigai-Perez indicated that at times Koeper and Timphony were neck and neck on the hillside, but Koeper was able to withstand the challenge and pulled away to win the race by 3 full seconds.
Sharon Pevsner, who was the first woman to cross the line last year, also took first in the woman's division this year, with a time of 1:16:32. Pevsner had also previously won in 2004, Jannifer Heiner of Pasadena was second in the women's division, and Sara Ireland of Monrovia took third. Jonathan Toker of Newbury Park was third place in the men's division.
Results of the race by division can be found by clicking on the links below this article. A searchable database of the results can be found on the internet by visiting http://runraceresults.com/Event.asp?ID=RCOK2007.
This year's 8.6 mile race which starts and ends at the corner of Baldwin Ave. and Kersting Court, featuring a 2100 foot elevation change on trails that are as narrow as 3 ft. wide with vertical drop-offs of hundreds of feet, featured contestants from as far away as Utah, Colorado, South Carolina, and Brooklyn, NY. There was at least two father/son entries, two ten year olds, and an 80-year old. Ten year old Miranda Stiver of Sierra Madre finished at 1:36:20, winning the girl's 10 – 14 age division, and 14-year old Mason Stout Blackman won the same age division on the male side, at 1:34:08. There were six entrants who had passed their seventieth year, including 79-year old Reinhold Ullrich of Palos Verdes and 80-year old Lono Tyson.
Ralph West competed in his 33rd consecutive Mt. Wilson Trail Race, and Bill Dickey completed his 26th race, though I don't believe his are consecutive. There were 68 Sierra Madreans in the race.
For the second year in a row, the Mount Wilson Trail Race events included a Kids Art Show depicting the Trail Race and this year celebrating the City of Sierra Madre's Centennial Year. Also for the second year in a row, there was a separate race for youngsters while the Trail Race was going on, called the Kids Fun Run, as a part of the Community Services Commission's Healthy Family Fun activities. Dozens of kids from 3 to 13 raced up Baldwin and back – finishing under the same finish line as the Trail Race Runners. The top finisher, Owen Keller, ran the race in 7 minutes and 13 seconds.
The Race was made possible thanks to the generous assistance and early morning risers of the Sierra Madre Civic Club, Sierra Madre Search and Rescue, Sierra Madre Emergency Communications Team, Sierra Madre Boy Scout Troop 110, Sierra Madre Cub Scout Pack 110, Sierra Madre Public Works Department, Sierra Madre Police Department, Sierra Madre Volunteer Firefighters' Association, Sierra Madre Woman's Club, Sierra Madre Trail Blazers, the Sierra Madre Community & Personnel Department, and all the volunteers on the Mount Wilson Trail Race Committee. The 2007 Mount Wilson Trail Race Committee members were: Pete Siberell-Chair, Gary Hilliard-Logistics, James Faulkner-Art Director, Charlie Bell & Pete McNulty-Trail Maintenance, Lisa Spigai-Perez-Announcer, Jeremy Heiner-Sierra Madre Search & Rescue, Pam Kelly-Civic Club Volunteer Coordinator and Members at Large included: Denny Barry, Alice Clark, Eric LeClair, Dave Liston, Jim Liston, Tommy Marshall, Travis McDaniel, Jim Moran, Josh Moran, Brian Stiver, & Keith Van Dusen.
Trail Race sponsors for 2007 include: New Balance, Run with Us Pasadena, Ford Graphics, Patagonia-Pasadena, Elite Fitness Bootcamp, Café 322, Budincich Chiropractic Clinic, CATZ-Pasadena, Mountain Khakis, Jamba Juice, Alpine Training Services, Lucky Baldwin's Delirium Café, Sharon and Bill Pevsner, Boomers, Casa del Rey, Coldstone Creamery, Costco, Curves, Dr. Arthur J. Kennan, D.C, G.E.M. Plumbing, Global Hospitality, Inc. Golf 'n' Stuff, Hollywood Bowl, Ice House Comedy Club, In-N-Out Burger, Josh Moran Of Webb-Martin Realtors, Judy Webb Martin, Larry Twedell, Leonora Moss, Los Angeles Dodgers, Mama Pete's Nursery School, Mimi's Café, Moe's Auto Service Center, Planes of Fame Air Museum, Platt Design Group, Rotary Club of Sierra Madre, Santa Anita Park, Savor the Flavor, Six Flags Magic Mountain, Sport Chalet, Starbucks Coffee Co., The Buccaneer Lounge, The Center of Well Being, Trail Runner Magazine, Universal Studios, Verland R. Kelly & Assocs., Inc, and Village Domain.
The links below are still under construction. The only complete pages so far are the Pasta Feed the Kid's Fun Run, Miscellaneous Event Pages 1 and 2, all the Race Results pages, and the Kid's Art pages. Please be patient, and check back, I'll be adding nearly 400 photo and video files, and all the results from the Trail Race later today and tomorrow. If you're looking for individual times, click here.
---
---
Sierra Madre News Net is not affiliated in any way with the Mt. Wilson Trail Race Committee. The Trail Race pages are provided as a public service by Sierra Madre News Net, with information generally provided by the Sierra Madre Sierra Madre Community and Personnel Department.
---